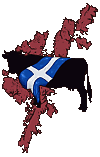 The
Shetland Cattle Herd Book Society
is the registration body for all Shetland cattle and is based in Shetland, the native home of the breed. It was originally constituted in 1910 and has published registrations in Herd Books from 1912 to 1921, and then since 1981.
Membership of the SCHBS is £20 annually, which entitles you to a Herd Book for the year and preferential registration fees of £7.50 per animal. A birth notification/registration form is sent automatically each year to members. The fee for transfer of cattle into your name is £2.50 per animal and the use of a prefix may be registered with the Society without charge. Calves must be registered by 31 January following the year of birth. The owner of the cow at the time it gives birth is responsible for registering and naming the calf. (The breeder is the owner of the cow at the time of insemination).
The Shetland Cattle from Shetland Breeders Group was established in 2001 to promote the breed on the Islands. Its role is very similar to that of the SCBA on the mainland. All three groups have the same broad aims for the future of the Shetland breed, and maintain strong links.